Best Frosted & Decorative Window Film Houston & Much More
Frosted and Decorative Films
Skylight Window Films provides commercial and residential frosted window films service in the Greater Houston area and far beyond.
Are you looking for a way to make your home safer? If so then one of the best options is our decorative frosted films. This is a safe and effective way to help protect your windows from break-ins while adding more privacy to certain rooms in your home. The film is available in also available in different patterns and graphics so you can select a product that's right for your preferences.
The frosted films are available in residential decorative frosted films and commercial decorative frosted films so you can add them to the windows of your home or office.
They provide various benefits including the following:
Custom-cut
Frosted film
Decorative film
Custom graphics
More privacy
These are key benefits that will help to make your home more secure and decorative. Alarm systems can certainly be helpful for alerting local authorities of a break-in but it's also important to prevent the would-be thieves from entering your home. The Frosted film is one of the best options and it's one that you should definitely consider if you want to beef up security in your home or office.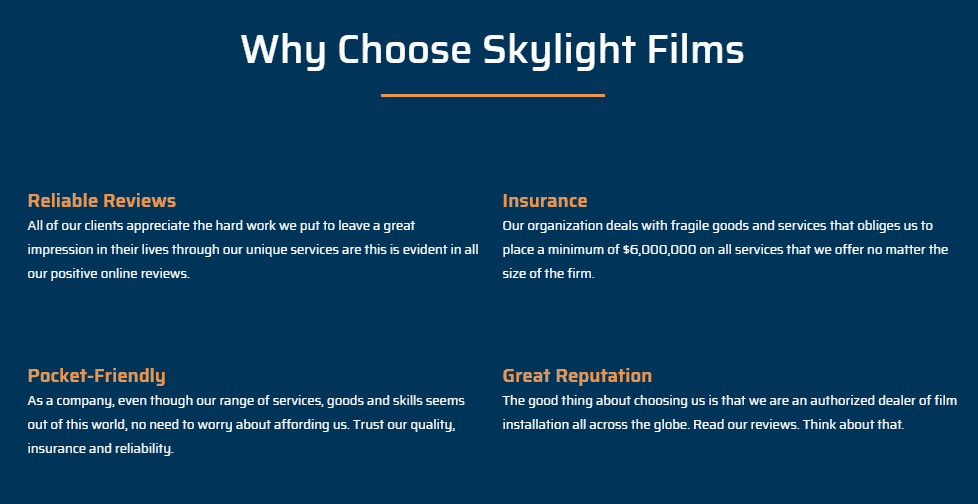 Best Frosted & Decorative Window Film Houston
Our company services homes that want to improve the security, privacy, and aesthetics of their windows. A house is one of the biggest investments that most people make during their lifetime. So it's important to take steps to protect your investment as much as possible. One way to do that is to thwart people from entering your home illegally. Window film is one of the best ways to do that.
Residential decorative frosted films can provide many benefits for your home. They include stronger windows, more privacy, and extra style/class. In fact, you might be surprised at some of the other benefits of our window film. It can also help to reduce UV rays, reduce glare, and lower your AC/heating bills. So it's possible for the film to pay for itself very quickly due to savings your household can enjoy.
If you own or operate a business then you'll certainly want to make sure that you protect your investment as much as possible. The cost of replacing equipment can be very expensive and especially when it's computers or network units, for example.
Our company's commercial decorative frosted films are the perfect solution for your business. The film provides many benefits starting with better security. The film can help to slow down potential thieves so it will be tougher for them to break into a house after authorities are alerted about the attempted break-in. This is critical because it can help to boost your company's overall security.
Another plus of the frosted film is it also provides more privacy. This is especially important in areas of your office where there are confidential meetings and such. In those situations, you'll certainly want to keep those areas as private as possible due to various meetings/conferences that take place there.
Another plus is that our company's frosted film also provides various decorative options like graphics. That helps to improve the aesthetics of your company's windows, which in turn will make it company's building more eye-catching. That will improve the curbside value of your building and welcome visitors.
Why should you pick our company to install decorative frosted films in your home or office? Our company has the know-how and experience to make sure the window film is stalled effectively and efficiently. This will help to make sure you can enjoy the frosted film sooner rather than later. This is important because you'll want to start increasing the safety and privacy of your home as soon as possible. One way to do that is to have window film installed as soon as possible.
Why not contact our company today for a no-obligation quote? We can provide you with an estimate of the cost of installing our decorative film to the windows of your home or office. This will help to make your home safer and more private as soon as possible. We guarantee that our products /service are the best in the industry. This will result in your home or office having the best window film that's been installed professionally. We believe our customers deserve only the best.
Professional, punctual, flexible schedule, efficient and amazing quality. I called Friday morning (yesterday) for an estimate on our office property and he came out the same day to provide the quote. He came in this morning (Saturday) and completed the project within 2 hours. He did such an amazing job, we will definitely continue our business relationship for future projects. Thank you so much!
They did a fantastic job on our windows and front door! Looks great and is just what we needed! Luis was very professional and helpful! He did a great job explaining the options and was extremely quick getting everything finished! We would definitely use them again and recommend them to anyone looking for high quality window film!
Great personal service. Moments after filling out the online form I was notified that a representative from skylight window would be arriving the next day. He worked with me on my schedule to make sure we got the right tint. Very pleased with the outcome.
How to book our services?
Book a consult & describe your project
Get the terms & and estimated price
You can rest, we do the work
Are you convinced already? Get yourself a free quote!