In case you don't know what perforated vinyl is, I'll provide a brief description. It's a vinyl film with perforation… makes sense right? Large graphics are commonly printed on these vinyl films and applied to the exterior of windows. This is great for enhancing the look of your storefront or office building, and it adds privacy as well. You can still see out, but people on the outside can't see in – they only see the beautiful graphics printed on the film.
       Recently we installed some of this film for The Work Lodge in Northwest Houston. We put a dual reflective film on the inside, which reduced their heat gain by almost 70%, and we installed their custom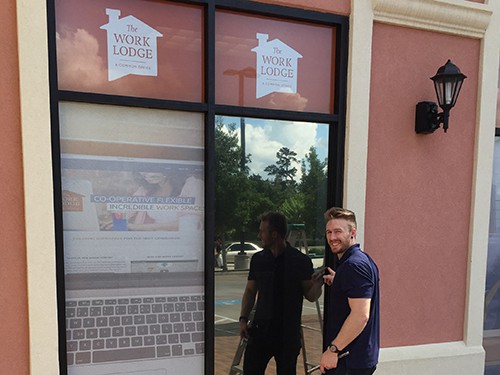 printed perforated vinyl film on the outside of the glass, which also cut down on the heat. As you can see in the photo, the window on the bottom right hasn't had the perforated vinyl applied to it yet, and obviously the others have. Luis had just finished installing the film on that window on the bottom left, and apparently it's good because he's giving us the thumbs up!
This picture shows how, with the use of perforated vinyl with custom artwork, you can turn ordinary commercial windows into something extraordinary. In addition to the aforementioned aesthetic enhancement, added privacy, and additional reduction on cooling costs, this custom perforated vinyl film also serves as great advertisement. You can literally put anything you want on it.
Skylight Window Films doesn't print on perforated vinyl. For these projects, we need a professional printing company. If you have a design idea though, we can help you conceptualize it and create the image file, along with preparing it for printing.
We believe every business should do its best to make its image and brand attractive and trustworthy. Adding perforated vinyl to your windows can help you achieve this. If you can dream it, we can help you achieve it!